DigCompEdu Competence area
5.2 Differentiation and personalisation
Minimum digital skills level of Students
Minimum digital skills level of Educators
Learning/Teaching situation
Teachers who want to help student in students' resume.
PC/laptop

Internet connection

Relevant pictures of experiences

Activated GPS on the smartphone
Competences+ is a smartphone application that allows the user to create a dynamic resume highlighting the user's competences based on his/her personal and professional experiences. The user registers its experiences and can then generate as many resumes as wanted while choosing to include them in his/her portfolio. The main area of competences of the user appears in the portfolio in a form of a word cloud. The user can self-assess the level of competences acquired with each of his/her experience according to the 8 Key competences of the European Union for lifelong learning.
How to do it (step by step)
Step 1
Download competences+ app on your smartphone
Step 2
Create your profile while filling up your name, address, phone number etc. and create a password.
Step 3
Once your account is created you will be redirected to the dashboard
Step 4
Access the menu by clicking the icon at the top left corner.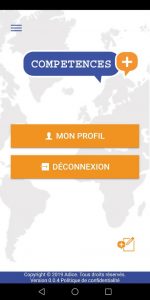 Step 5
Select "experiences" or click on the icon on the bottom right corner to add one more experience.
Step 6
For each new experience, select a picture, fill up the description, location, website of organization/company/school and relevant keywords (on the form of #).
Step 7
Self-assess your experience with the appropriate number of stars (1 star very bad, 4 stars very good) while responding to the questions referring to the 8 Key competences of the European Union. The competences scoring a higher number of stars will appear first in the portfolio.
Step 8
Repeat task for new experience as many times as needed
Step 9
Create your personal portfolio choosing the experiences you want to highlight by clicking "add to portfolio of competences".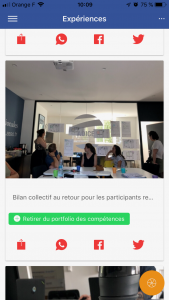 Step 10
 Click on the icon on the right up corner to "export your portfolio", a PDF file will be created with your personal information, experiences, and word cloud.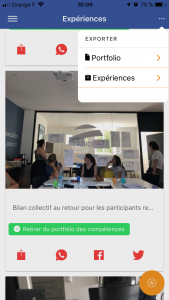 The user can modify one experience by clicking on the picture chosen and then click on "modify" (bottom button). It is also possible to share its experience on social media (Twitter, Facebook, Instagram, WhatsApp) while clicking on the relevant widget.
Additional information can be found on-line: