DigCompEdu Competence area
Minimum digital skills level of Students
Minimum digital skills level of Educators
Learning/Teaching situation
Teachers want to embed differentiated supports
PC/laptop/smartphone

Internet connection
Edmodo is social network dedicated to education purposes where teachers, parents and students can have different profiles. Teachers can post lesson materials, homework, create quizzes and open discussion subject etc. Parents are informed about their children progress, marks etc. and students can write directly to their teachers outside the classroom. Edmodo is also available on smartphones and tablets.
How to do it (step by step)
Step 1
Go to https://new.edmodo.com/?go2url=%2Fhome and click "sign up" on the top right corner. You will be asked to create either a teacher, a student or a parent account . For the sake of this recipe, the teacher account will be preferred.
Step 2
Choose between setting up a class or looking for subject-based resources and material. It is recommended to start with the latter option to get a grasp on the application potential. Click "explore your interest".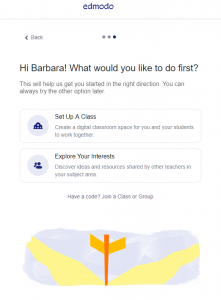 Step 3
The next page will look familiar to you, if you use social network such as Facebook or Tweeter. Start with editing your profile clicking on "view profile" the top left corner, this will channel the information of the application according to your educational interests and objectives.
Step 4
You may also join a "popular conversation" (right column) or "create a class" or "create a group" with your students.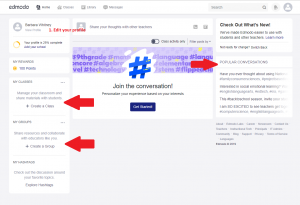 Step 5
Use the "group" as well as the "messages" feature of the application to interact with students, respond to their inquiries and track their progress on the lesson.
Edmodo also contains a feature called "My Rewards" which allows users to earn points based on their activity on the platform. The reward points can eventually be converted into gift cards to buy supplies for their classroom. It is also possible to create a blog on Edmodo Blog.
To find out more about Edmodo's features and potential see: