DigCompEdu Competence area
2.2 Creating and modifying digital resources
Minimum digital skills level of Students
Minimum digital skills level of Educators
Learning/Teaching situation
Software applications come to serve an effective way of both teaching & learning.
Teachers who want to prepare tutorials and other learning resources for software applications.
PC/laptop

Internet

Screen Recording Software 
The usage of screens has become inevitable these days. Whether it is your personal computer, mobile or a television, the information we seek gets displayed on the screen. But, what if you need to share that information with someone? Screen recording plays a prominent role here. It has become a significant tool for sharing knowledge whether it is for business, education or entertainment.
Organizations use screen recorder software for preparing how-to-do videos, product demos, and learning resources. Moreover, in the educational sector, screen recorder software is used to prepare tutorials and other learning resources.
While delivering instructions, many times textual content might not solve your purpose. You may need to show specific steps to solve a particular issue or share knowledge. Writing a long description would take more time than sharing your screen with someone. But, what if you are not physically present with the person who needs to view your screen? Screen recorder software is of great use in this situation.
You can record whatever is on your screen, convert it into a presentable video and share it through various channels like Facebook, YouTube, etc. But, the entire process of preparing videos and sharing them can be tough if the right kind of screen recorder software is not applied.
How to do it (step by step)
Step 1
The process starts with rendering the scene displayed on your screen at present which includes the applications and the content displayed. The screen recording application reads that content and transfers that to its memory. This completes the process of capturing a single image.
But, in case you need to capture multiple images of the screen, the process is repeated. Then these multiple images are compiled and converted into a video required for how-to-dos, product demos, tutorials, or learning resources.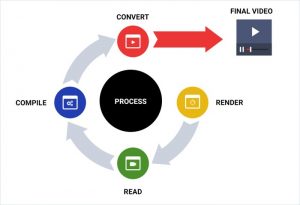 Factors to be considered while selecting the best Screen Recording Software:
There is several screen recording software available in the market which seems to be similar at times.
How would you differentiate one from another and select the best which suits your requirements?
These factors perhaps can help you in that matter.
Frame Rate Speed
The number of times the screen image captured in a second is known as the frame rate. The video output is smooth if the frame rate speed is high. An ideal screen recorder software provides 30 fps (frames per second) recording speed.
Multiple Screens Recording
For instance, if you are using a very complex financial software, you may require recording multiple screens. Ensure that the software you select provides you this facility if you require recording multiple screens at the same time.
Video Sharing
Many screen recorder tools just prepare a video and save it to your hard drive. You can then decide on where and how to share that video. But, there are some screen recording tools available which automatically share the video on the platforms you want to.
Deployment
The screen recording software can either run locally on your hard drive or can be web-based. Web-based screen recorder can be accessed online and will not take your storage space. But, you have more control over screen recording software which is downloaded and runs locally on your hard drive.
Like other software you use for business or entertainment purpose, your screen recording software ideally should be user-friendly and easily adaptable.
7 of the best free and open source screen recorder software, which might help you in selecting the best one suiting to your specific needs: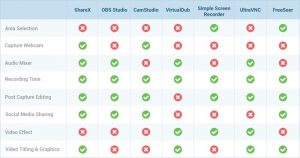 • ShareX https://getsharex.com/
• OBS Studio https://obsproject.com/
• CamStudio https://camstudio.org/
• VirtualDub http://www.virtualdub.org/
• SimpleScreenRecorder https://www.maartenbaert.be/simplescreenrecorder/
• UltraVNC https://www.uvnc.com/
• Freeseer https://freeseer.readthedocs.io/en/latest/