DigCompEdu Competence area
2.1 Selecting digital resources
Minimum digital skills level of Students
Minimum digital skills level of Educators
Learning/Teaching situation
Teachers & trainers who wish to create tutorials, save them and upload them in a platform.
Students or online participants
PC/laptop/SMARTPHONE

Internet

Screen Recording Software
Screen recording is capturing the actions on the computer screen. These can be used by teachers to create tutorials to showcase in your classroom or upload on an internet platform.  Teachers can use screen recording in the form of screencasting, tutorials, trainings and presentations
How to do it (step by step)
Step 1
Selecting Teaching Material to Share – A2
Instructions provide a purposeful direction for the learning process. In order to ensure that teachers give student clear and precise instructions, it may be necessary to align instruction with standards to ensure that a higher level of learning is attained. Screen recording software can be used when preparing a lesson with your students in mind to improve instructions for better performance and plan focused instruction that meet the specific needs of students. Tutorials are a step by step instructions and explanations to teach the processes of various subjects.
Learning situation:  Improving instructions with Tutorials
Planning your lesson and designing activity– Choose realistic learning goals and have a clear picture your method of instruction.
Consider the know knowledge you will cover-Pick a topic or learning context and develop the relevant supporting material for the activity of lesson
Select appealing resources –Always choose good quality resources that come from reliable sources, and make sure they are safe for your students to use.
Step 2
Developing ideas and methods for providing guidance
Develop a guidance plan for the lesson -Prepare lesson in mind with meeting students' needs and consider other tools to support and facilitate the learning process e.g. adding to audio for narrating.
Consider Choosing various methods of delivery – Blend the tutorial with constructivist learning activities and experiential/hands-on learning approaches to make the lesson dynamic. e.g. activities with discussions and brainstorming sessions etc.
Considers possible restrictions and students needs
Incorporate measures to create an enabling environment– these include access to technologies or opportunities for feedback and questions.  
Consider and check issues -When it comes to sharing or distribution of content online therefore copyright infringement laws need to be checked
Step 3
Designing activities to encourage collaborative learning 
Increase student engagement – Create activities what offer equal opportunities to all your students and enable them to learn from one another through working in partners or group work.
Step 4
Demonstrating how the tool can be used for self-regulated learning
Providing access for independent practice-Provide access to the sharing tool so students can view material as many times as they need to e.g. absent students
Screen recording will let you record any and all video footage from your screen. Users can additionally record while streaming and save online streaming video regardless of whether it is on social media, platforms, websites, or apps.
7 of the best free and open source screen recorder software, which might help you in selecting the best one suiting to your specific needs: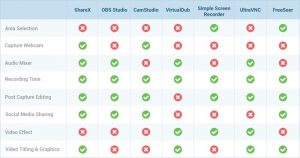 • ShareX https://getsharex.com/
• OBS Studio https://obsproject.com/
• CamStudio https://camstudio.org/
• VirtualDub http://www.virtualdub.org/
• SimpleScreenRecorder https://www.maartenbaert.be/simplescreenrecorder/
• UltraVNC https://www.uvnc.com/
• Freeseer https://freeseer.readthedocs.io/en/latest/