DigCompEdu Competence area
3.3 Collaborative learning
Minimum digital skills level of Students
Minimum digital skills level of Educators
Learning/Teaching situation
Teachers who need skills to create an online magazine
Teachers & students who familiarize with how to create a magazine.
PC/laptop

Internet connection
Madmagz is an online application to create web magazines either collectively or alone. It contains different type of templates to edit school newspaper, newsletter, catalogue, flyer etc. and gives the opportunity to the "chief redactor" (the creator of the magazine) to invite "collaborators" to work on specific pages. The web version of the magazine can be printed for free, however a fee will be charged to edit the magazine in other formats (PDF, PPT etc.).
How to do it (step by step)
Step 1
Go to https://madmagz.com/ , it is possible to sign in with a google or a Facebook account. If you have none, it is possible to register and create an account with a password.
Step 2
Click on "create a mag" button located on the top row.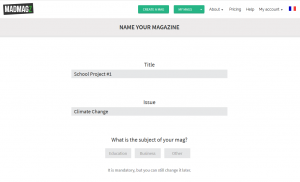 Step 4
Name your magazine and specify the issue you will be speaking about as well as the subject.
Step 5
At this stage, you may choose to invite "collaborators" to co-write some of the articles of the magazine. If so, click on "invite collaborators" button on the left inside corner. You will be redirected to a page with 2 links: one for the "chief redactor" (the creator of the magazine) and another one to be sent to "redactors" (collaborators). Collaborators will receive an email with an invitation to contribute and a direct access to the draft magazine.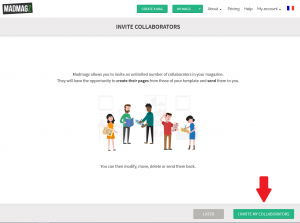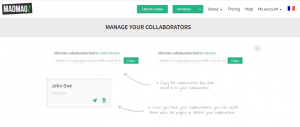 Step 6
Go back to your mag and select the format of the pages and articles of the magazine as well as the number of pages (Consider, the total number of pages in the magazine must be a multiple of 4).
Step 7
Modify the content of each page directly in the given format with your article and pictures.
Step 8
Once you have inserted the content click "publish" on the bottom left corner. You will be asked to complete a preview check, when everything is finalized, click "publish" again on the left inside corner.
Step 9
The next page contains the link for your web magazine that you can send by email; as well as widgets to share it directly on social medias. At this stage, it is also possible to add a small description of the magazine (140 characters max).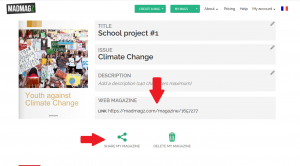 The premium version of Madmagz contains features to add links, video and sound into the magazine, to manage the confidentiality of the readers and find out the number of views.
Additional information about Madmagz is available here :