DigCompEdu Competence area
4.3 Feedback and planning
Minimum digital skills level of Students
Minimum digital skills level of Educators
Learning/Teaching situation
Teachers who have to skills to use a digitally consult outside the class.
PC/laptop

Internet connection
Framadate is an on-line application to create polls that can be used to consult and collect feedback in a group. The user can create two types of polls: one for setting a date and time for a meeting or an event and a second one to decide/select collectively based on a pre-defined list of items. No registration is required.
How to do it (step by step)
Step 1
Go to https://framadate.org/ and choose whether you want to "schedule an event" or "create a standard poll". For the sake of this recipe, the latter option will be chosen.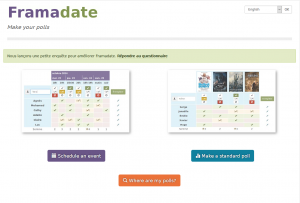 Step 2
Fill up the short questionnaire giving the basic information about the poll (name and email address of the creator, name of the poll etc.). At this stage, it is also possible to write a short message to the group of persons you wish to consult with in order to give additional information if needed.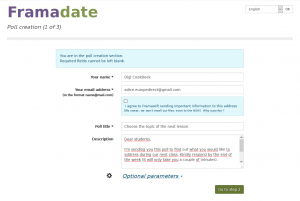 Step 3
Click "go to step 2"
Step 4
Insert a list of items among which you would like the group to choose from. There is a possibility to insert a visual and/or a link for each option of the list to make the poll more attractive while clicking on the right button. A pop-up screen will appear to upload pictures, photos etc. directly from your computer.
Step 5
Click "next"; the following screen will ask you to confirm your list of items and to set up an end date for the poll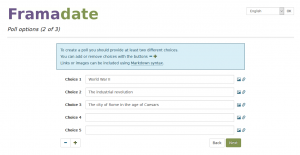 Step 6
Click "create the poll"; a recap screen will appear with 2 links: one link to be sent to a group of people with a direct access to the poll and one administrator link allowing the creator of the poll to manage it
The creator of the poll will also receive 2 emails: one email with a direct link to access the poll that he/she will need to send to the group of people and one administration link. The application also includes a comment section that allows respondents to give their feedbacks or additional information.
Framadate is an open-source software, completely free of charge and free of advertising. It also includes additional applications such as "framablog", "framakey", "framadvd", framapack" etc.
A similar application for event planning is Doodle: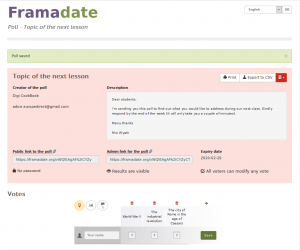 Doodle https://doodle.com/fr/