DigCompEdu Competence area
5.3 Actively engaging learners
Minimum digital skills level of Students
Minimum digital skills level of Educators
Learning/Teaching situation
Teachers who need skills to create an online magazine
Teachers & students who familiarize with how to create a magazine.
PC/laptop/smartphome
Internet connection
A projector
Mentimeter is a free on-line presentation software that allows the user to create interactive and engaging presentation. It concretely offers the opportunity to create polls, quizzes, slides and images to which the audience may react or give feedbacks using their smartphones. Once the presentation is over, the user may also export the results for further analysis and compare data over time to measure progress of the audience.
How to do it (step by step)
Step 2
Click "New Presentation" to view the different templates formats proposed and choose one. A 6 digit code will appear on top of your presentation, this is the code the audience will need to interact with you using their smartphones.
Step 3
The left column of the dashboard indicates the process of creating an interactive content. First, click on "type" to choose the format of your question, then "content" to word it, and "customize" if you want additional parameters.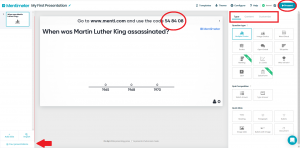 Step 4
While inserting the content of your question, you may also choose how you would like the results to appear to the audience while clicking on "result layout".
Step 5
Click "Present" on the top right corner to have an overview of the presentation so far.
Step 6
Click on "your presentation" on the bottom left corner to go back to the dashboard
Step 7
Click on "configure" to manage additional settings of your presentation such as the validity of the digit code, language and audience access. It is also possible in this section to export the presentation into different format such as Excel, PDF, and to extract a QR code for easy scanning access.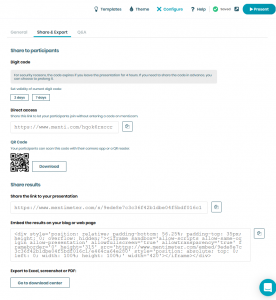 Mentimeter's free trial limits the number of questions and quiz presentation you may create and does not allow to import google or PPT presentation (only available for paid plan user). The website also offers special rates for education facilities and school.