DigCompEdu Competence area
5.2 Differentiation and personalisation
Minimum digital skills level of Students
Minimum digital skills level of Educators
Learning/Teaching situation
Teachers want to prepare tutorials and other learning resources.Visual creative lesson activity.
Any kind of teacher or trainer.
Intermediate level of digital pedagogy competences.
PC/laptop/smartphome
Internet connection
Email account
This recipe gives students a tool to develop their creativity and design skills.
Canva is an online tool where you can prepare any kind of visual material (poster, leaflets, logos, etc).
To start mastering Canva, we will explain what exactly this interesting tool is. As we said, it is basically used to create professional graphic designs with the drag and drop facility.
In addition to the web version, it is also available for smartphones with Android or iOS system.
Canva's great resources are really the predefined templates, which are divided into several categories, among which are: Images for Social Networks, Curriculum, Business Cards, Infographics, Newsletter, Ads, Media Kit, Web Banner, among others.
Each art is already the correct size for each channel, and when they are ready they can be downloaded in PNG, JPG and PDF formats.
Another differential of Canva is the possibility of creating a project and sharing it with other people.
How to do it (step by step)
Step 1
To start creating your own "Canva " access the following link: www.canva.com
Step 2
Open your account in Canva.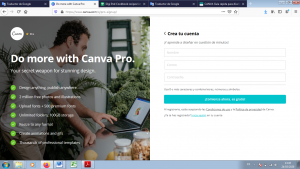 Step 3
Edit your profile.
Step 4
Create a design with the different formats available in Canva:
We will be able to choose different types of layout, the font, the color… And finally the "Upload" tab to upload our own elements to the design.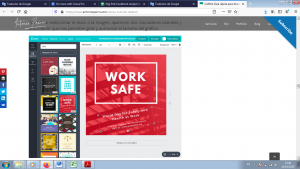 Step 5
Once your design is created, share it with your students on Social Networks
we can share directly on Social Networks, as I mentioned before, by clicking on the top right menu of the work area, or we can export the image in PNG or PDF format.
Step 6
Ask them to make a similar design for a virtual advertising campaign. Send a task to your students (for example, prepare a poster for the International Day of Peace), the task could be individual or in group.
Step 7
Review the result of the task.
Step 8
Reward the best one!
Great for marketing activities, developing brand identity for assessment purposes
Useful for collaborating and sharing ideas and options to encourage discussion amongst learners
Useful for team working activities: each can be assigned a design element for a collaborative project