DigCompEdu Competence area
4.3 Feedback and planning
Minimum digital skills level of Students
Minimum digital skills level of Educators
Learning/Teaching situation
Teacher who want to plan a meeting or an event.
PC/laptop/smartphome
Internet connection
Doodle is an on-line scheduling application that can be used to organize a group activity or event without having to go through extensive email exchanges. The organizer of the event creates a poll including dates and place propositions and sends a link to the group which can then indicate their availability in a "yes" "no" "maybe" form. The application keeps count in real time about the date option that cast the most votes.
How to do it (step by step)
Step 2
On the doodle dashboard click on "create" on the top right corner to create a new poll. You will be given choices to create a group meeting, a one-to-one meeting or a survey; for each option follow the proposed process.
Step 3
Explain what the meeting is about and press "continue".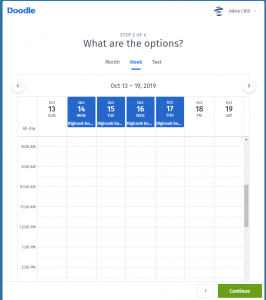 Step 4
Insert the date options using the calendar feature (it is possible to set up a specific day as well as a specific time period during the day).
Step 5
Define the poll settings (poll deadlines, numbers of answers allowed per person, audience of the poll etc.).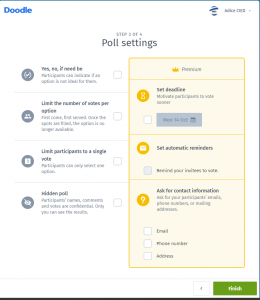 Step 6
Invite people while inserting individual email addresses, you may enter a specific note for your group while clicking "edit message". When clicking send, the group will receive an automated email with the link of the poll. You may also choose to only send the link in a regular email.
Step 7
Click "more" on the top line of the last screen for additional features such as exporting the poll into excel or PDF, print the poll, delete or duplicate the poll etc.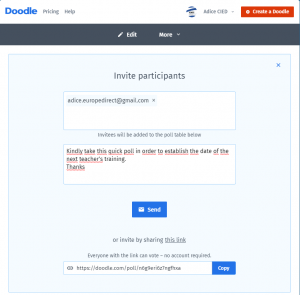 Doodle is not for free, it is possible to test use the application for free for the a duration of two weeks after which a monthly fee will be requested.
Doodle also contains an on-line appointment booking feature called "My Bookable Calendar" which may be very useful for professions requesting one-to-one meeting (health practitioners etc.)