What is digital pedagogy?
Digital technologies are everywhere and becoming increasingly important at every stage of life. It has changed the way the "older generations" communicate and interact with each other, the way they work and learn. The "younger generations" are now growing in a time where being disconnected is almost impossible and where digital tools occupy a great share of their leisure time and social life. It is also their primary means of finding information and knowledge.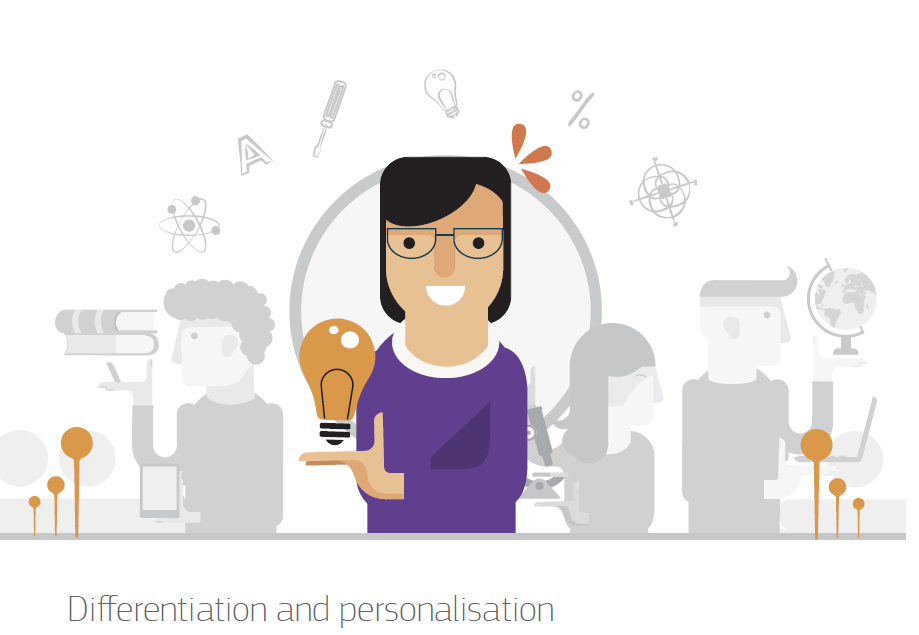 Harnessing the potential of ICT in the field of education and training is a new challenge. Indeed, it requires a change in training practices and methodologies as well as in designing curricula and delivery media for teachers/trainers. This is where the digital pedagogy comes in.
"Digital pedagogy" is a rather new concept, whose definition will continue to drive debates and discussions among scholars and pedagogues for a long time. Broadly speaking it refers to the use of electronic elements to enhance or to change the experience of education."
The Hybrid Pedagogy, a digital pedagogy centered journal further explains that "it is as much about using digital tools thoughtfully as it is about deciding when not to use digital tools, and about paying attention to the impact of digital tools on learning ». The key word remains "pedagogy", describing how the knowledge and skills are being transferred rather than the specific means of supporting this exchange.
Paul Fyfe, Associate Professor of English at the National Humanities Center (USA) asserts that "one of the current shortcomings or misconceptions around digital pedagogy is how frequently it gets conceived in terms of instructional technology – often thought of as just something that uses electronic tools or computers, rather than altering the pedagogical approach".
Digital pedagogy is not only about using a Power Point Presentation, a video or a serious game in a teaching situation but also about reflecting on how the lecture form itself should and could evolve thanks to the new digital component. This is where the teacher, being responsible for elaborating a teaching strategy, plays a key role.
The essential role of trainers and teachers
Using ICT to better engage students, create, disseminate, store and/or manage information is already being done in many schools, universities and other education institutions. However, digital pedagogy remains unevenly distributed across Europe as schools are unevenly equipped and teachers unevenly trained and comfortable to implement it.
In some contexts, ICT has become integral to the teaching-learning interaction, through such approaches as replacing chalkboards with interactive digital whiteboards, using students' own smartphones or other devices for learning during class time, and the "flipped classroom" model where students watch lectures at home on the computer and use classroom time for more interactive exercises. In other situations, the electronic elements introduced in class are less advanced (power point presentations etc.) and/or remains exceptional.
Digital pedagogy is not a magical solution with which all trainers would systematically achieve their learning objectives and all students succeed. Conversely, it is not only a fashionable trend of our modern world either. Using technologies may positively impact and enhance learning experiences if and when teachers are digitally literate and understand how to integrate it into their classroom. In order for technology to be efficient, there needs to be a purpose to it.
Hence, digital pedagogues (educators) should constantly be asking themselves the following questions while considering using technological tools:
What tools are available for me and my students to play with?
How can improvisation occur online to reinforce learning?
Does digital learning end when the course ends, or is it sustained perpetually by the online learning environment (ie, the Internet)?
Who are my students, and where can they be found? What are my students' URLs? What is mine?
Do disciplines matter online? Do canons exist? What is the point of rote memorization when everything is available online all the time?
Where is my authority now that all authority is a Google search away?
What happens when learning is removed from the classroom and exposed to the entirety of the digital landscape?
A new education paradigm
When asked whether technology is shaping education, the blogger and former CEO of a UK company specialized in online learning, Donald Clark says "it empirically does and resistance to it is futile". According to him, we are experiencing a "revolution in content" in which everyone can access almost any resources, anytime, anywhere thanks to apps such as Wikipedia, youtube etc.
In fact, this new way of learning where there are no longer teachers or curricula, frees education from a specific place, date and time and extends it far beyond the classroom. When for some, teaching begins with authority and expertise; for the digital pedagogue, teaching begins with inquiry, encouraging students to explore and find answers themselves.
It is now well established that a wise use of ICT can lead to higher order thinking skills and provide creative and individualized options for students to express their understanding. It also better prepares them for a modern working environment where problem-solving and teamwork are valued as well as autonomy.
Schools and education institutions play a crucial role in developing students' digital skills, especially in providing equity of opportunity and access regardless of learners' backgrounds. The challenge is to shift from a vertical education model where the teacher/trainer delivers knowledge to the students to a more horizontal one where he/she acts more as a "facilitator" allowing every student to learn at their own pace, using a combination of different methods and scalable tools.