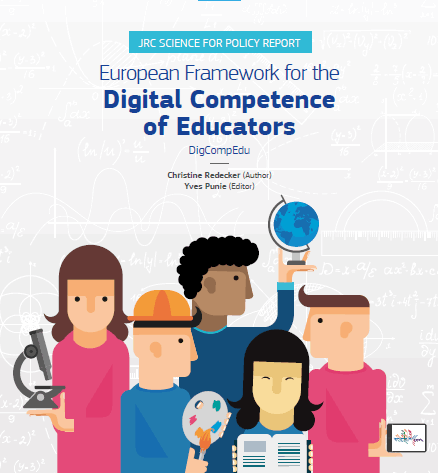 For years, technology has been evolving and forming an important part of our daily life. Gone are the times in which the only way to connect was phone or mail, today smartphones and tablets can be taken anywhere and we are continuously connected to the world.
In the same way, all professions today are increasingly demanding of their workers regarding the skills they have to develop for effective work, being adaptable in relating to all people and therefore have more value as professionals.
Seeing the gaps that are in the profession of educators in terms of their digital skills, the European Commission decided to develop DigCompEdu to create a common frame of reference for educators, to be able to know what could be evaluated and know where they are to continue developing in digital competences. DigCompEdu is a scientifically sound framework that helps guide policy and can be directly adapted to implement regional and national tools and training programs. In addition, it offers a common language and approach that will help dialogue and the exchange of good practices across borders.
The DigCompEdu study is based on the previous work carried out to define the Digital Competence of the citizens, in general (which we will deal with in the next point), and the Digitally Competent Education Organisations (DigCompOrg). It contributes to the Commission's recently endorsed Skills Agenda for Europe and to the Europe 2020 flagship initiative Agenda for New Skills for New Jobs.
The DigCompEdu framework of the Joint Research Center (JRC) is aimed at educators at all educational levels. The development of the framework has been based on the analysis, mapping and grouping of the elements that constitute the digital competence of educators, as detailed in the existing national and international frameworks, the self-assessment tools and the certification schemes.
DigCompEdu
Internationally and nationally, numerous frameworks, self-assessment tools and training programs have been developed to describe facets of the digital competence of educators and to help them assess their competencies, identify their training needs and offer specific training. DigCompEdu presents a common European framework for the digital competency of educators, since educators apart from the digital skills that anyone needs, need specific digital skills to apply in their role as educators, and adapt to modern times.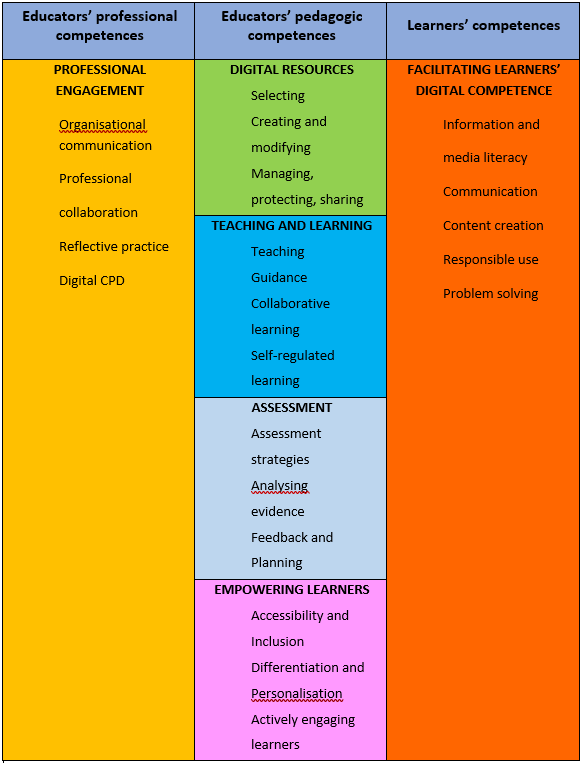 Areas of DigCompEdu
The DigCompEdu framework identifies six different areas in which the digital competence of educators is expressed with a total of 22 competences.
The six areas are the following:
1) Professional Engagement: Educators' digital competence is expressed in their ability to use digital technologies not only to enhance teaching, but also for their professional interactions with colleagues, learners, parents and other interested parties, for their individual professional development and for the collective good and continuous innovation in the organisation and the teaching profession.
2) Digital Resources: Educators are currently confronted with a wealth of digital (educational) resources they can use for teaching. One of the key competences any educator needs to develop is to come to terms with this variety, to effectively identify resources that best fit their learning objectives, learner group and teaching style, to structure the wealth of materials, establish connections and to modify, add on to and develop themselves digital resources to support their teaching.
At the same time they need to be aware of how to responsibly use and manage digital content. They must respect copyright rules when using, modifying and sharing resources, and protect sensitive content and data, such as digital exams or students' grades.
3) Teaching and Learning: Digital technologies can enhance and improve teaching and learning strategies in many different ways. However, whatever pedagogic strategy or approach is chosen, the educator's specific digital competence lies in effectively orchestrating the use of digital technologies in the different phases and settings of the learning process. The fundamental competence in this area – and maybe of the whole framework – is 3.1: Teaching. This competence refers to designing, planning and implementing the use of digital technologies in the different stages of the learning process.
4) Teaching and Learning: Assessment can be a facilitator or bottleneck to innovation in education. When integrating digital technologies into learning and teaching, we must consider how digital technologies can enhance existing assessment strategies. At the same time, we must also consider how they can be used to create or to facilitate innovative assessment approaches. Digitally-competent educators should be able to use digital technologies within assessment with those two objectives in mind.
Furthermore, the use of digital technologies in education, whether for assessment, learning, administrative or other purposes, results in a wide range of data being available on each individual learner's learning behaviour. Analysing and interpreting this data and using it to help make decisions is becoming more and more important– complemented by the analysis of conventional evidence on learner behaviour.
At the same time, digital technologies can contribute to directly monitoring learner progress, facilitating feedback and allowing educators to assess and adapt their teaching strategies.
5) Empowered Learning: One of the key strengths of digital technologies in education is their potential for supporting learner-centred pedagogy/strategies and boosting the active involvement of learners in the learning process and their ownership of it. Thus, digital technologies can be used to facilitate learners' active engagement, e.g. when exploring a topic, experimenting with different options or solutions, understanding connections, coming up with creative solutions or creating an artefact and reflecting on it.
Digital technologies can furthermore contribute to supporting classroom differentiation and personalised education by offering learning activities adapted to each individual learner's level of competence, interests and learning needs. At the same time, however, care must be taken not to exacerbate existing inequalities (e.g. in access to digital technologies or digital skills) and to ensure accessibility for all learners, including those with special educational needs.
6) Facilitating Learners Digital Competences: Digital competence is one of the transversal competences educators need to instil in learners. Whereas fostering other transversal competences is only part of educators' digital competence in as far as digital technologies are used to do so, the ability to facilitate learners' digital competence is an integral part of educators' digital competence.
Because of this, this ability merits a dedicated area in the DigCompEdu framework Learners' digital competence is captured by the European Digital Competence Framework for Citizens (DigComp). Thus, DigCompEdu follows the same logic and details five competences aligned in content and description with DigComp. The headlines, however, have been adapted to emphasize the pedagogical dimension and focus within this framework..
According to the JRC, the core of the DigCompEdu framework is defined in areas 2 to 5. These areas explain the digital pedagogical competence of educators, that is, the digital competences that educators need to foster efficient teaching and learning strategies, inclusive and innovative.
Areas 1, 2 and 3 deals with the characteristic stages of any teaching process, whether with the support of technologies or not. The competences listed in these areas detail how to make efficient and innovative use of digital technologies by areas 2, 3 and 4.
Area 5 recognizes the potential of digital technologies for student-centered teaching and learning strategies. This area is transversal to areas 2, 3 and 4, providing a set of guiding principles relevant and complementary to the competencies specified in these areas.
However, the most important competence in the entire framework, as highlighted by the JRC, is in area 3: "Teaching and Learning". This competence refers to the design, planning and implementation of the use of digital technologies in the different stages of the learning process.
Progress Model
For each of the 22 elementary competences, the competence descriptor is complemented by a list of typical activities. A progression model along six levels is proposed, for which a rubric with proficiency statements for self-assessment is supplied.
The proposed progression model is intended to help educators understand their personal strengths and weaknesses, by describing different stages or levels of digital competence development. For ease of reference, these competence stages are linked to the six proficiency levels used by the Common European Framework of Reference for Languages (CEFR), ranging from A1 to C2.
To encourage educators to use the DigCompEdu framework as a tool for their professional development, it was decided to couple CEFR levels with motivating role descriptors, ranging from Newcomer (A1) to Pioneer (C2). These descriptors are intended motivate educators at all levels to positively appreciate their achievements and to look forward to expanding them further.

For all competences, the progression of proficiency levels is cumulative in the sense that each higher level descriptor comprises all lower level descriptors, with the exception of the first level, Newcomer (A1). E.g., to be an Expert (B2) means to be able to subscribe to all statements at levels A2 to B2, but not to those at C1 and C2 level. The Newcomer (A1) level is largely described by the absence of certain competences, i.e. knowledge, skills or attitudes, present at the A2 or higher levels. Thus, Explorers (A2) are those who have overcome the concerns or doubts present at the Newcomer (A1) level.
For each competence a specific progression applies, depending on the characteristics of the competence in question and the way it typically evolves as a higher level of proficiency is obtained. However, some key words are common to the same level of proficiency across the competences of one area[1].
At the end of the DigCompEdu document there is a glossary of the most used technical terms in this area.