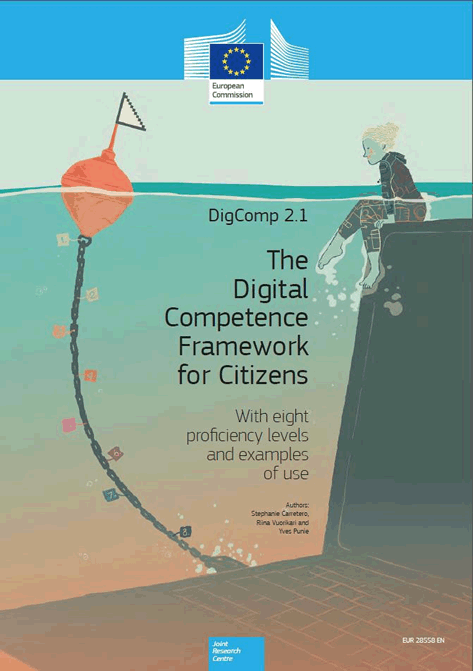 The DigComp Framework describes digital capability across 5 'Competences' and 8 levels of 'Proficiency'. Each competence area covers a handful of sub headings with examples given for each skill. Graphics and tables show the skills required at each of the various levels. It offers tools to improve digital ability, self-evaluate, set learning goals, identify training opportunities and facilitate job search. Key knowledge, skills and attitudes needed for digitally competence are identified and the guidelines are applicable at all levels of education, including non-formal settings. The 5 key competence areas and 8 proficiency levels are summarised below.
The 8 proficiency levels
Inspired by the structure and vocabulary of the EQF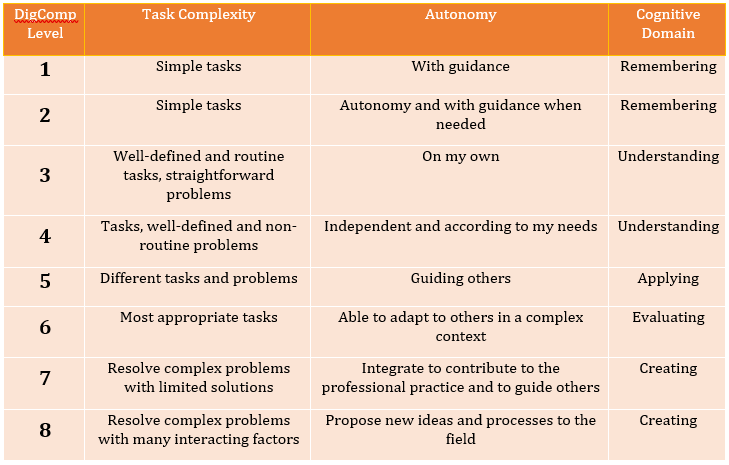 Competence area 1: Information and data literacy
1.1 Browsing, searching, filtering data, information and digital content
Articulate information needs. Access, search within and navigate between  digital environments.
1.2 Evaluating data, information and digital content
Analyse/compare/interpret/critically evaluate the credibility of digital content and its source(s).
1.3 Managing data, information and digital content
Organise / store / retrieve information digitally. Organise and process data in a structured way.
Competence area 2: Communication and collaboration
2.1 Interacting through digital technologies
Interact through various technologies with appropriate digital communication means for each.
2.2 Sharing through digital technologies
Share digital content through appropriate tech, referencing and attributing when acting as intermediary.
2.3 Engaging in citizenship through digital technologies
Participate in society through the use of public and private digital services. Seek opportunities for self-empowerment and participatory citizenship through appropriate digital technologies.
2.4 Collaborating through digital technologies
Collaborate using digital tools/technologies, and co-construct/co-create resources and knowledge.
2.5 Netiquette
Aware of behavioural norms in interactions using digital technologies/in digital environments. Adapt communication to audience, cultural/generational diversity in digital environments.
2.6 Managing digital identity
Create and manage one or multiple digital identities, protect reputation and manage the data one produces through using several digital tools and environments.
Competence area 3: Digital content creation
3.1 Developing digital content
Create & edit digital content in different formats, expression through digital means.
3.2 Integrating and re-elaborating digital content
Modify and integrate content into existing body of knowledge to create original, relevant content.
3.3 Copyright and licences
Understand how copyright and licenses apply to data, information and digital content.
3.4 Programming
Plan/develop instructions for a computing system to solve a problem or perform a specific task.
Competence area 4: Safety
4.1 Protecting devices
Protect devices and digital content, and understand risks and threats in digital environments. Know about safety and security measures and have due regard to reliability and privacy.
4.2 Protecting personal data and privacy
Protect privacy/personal data. Share data while protecting oneself and others from damages. Understand that digital services use a "Privacy policy" to inform how personal data is used.
4.3 Protecting health and well-being>br>Protect self and others against health-risks and threats to well-being while (e.g. cyber bullying) using digital tech. Aware of digital technologies for social well-being and inclusion.
4.4 Protecting the environment
Aware of the environmental impact of digital technologies and their use.
Competence area 5: Problem solving
5.1 Solving technical problems
Identify technical problems when operating devices & using digital environments, & solve them.
5.2 Identifying needs and technological responses
Assess needs & identify, evaluate, select & use digital tools and possible technological responses to solve them. Adjust & customise digital environments to personal needs (e.g. accessibility).
5.3 Creatively using digital technologies
Use digital tools to create knowledge, innovate processes/products. Engage individually and collectively in cognitive processing to understand and resolve conceptual problems digitally.
5.4 Identifying digital competence gaps
Able to support self/others with digital development understanding where competence needs updating/improvement. Seek opportunities for self-development in line with digital evolution.
The relation between DigCompEdu and DigComp2.1
Both DigComp 2.1 (initial version named 'DigComp') and DigCompEdu are born from the need to create reference frames that serve all citizens in general, and Europeans in particular. For this reason, the European Commission chose Digital Competence as one of the 8 key competences for lifelong learning. The Commission defines the Digital Competence in the following way:
"Digital competence involves the safe and critical use of Information Society Technologies (IST) for work, leisure and communication. It is based on the basic ICT competences: the use of computers to obtain, evaluate, store, produce, present and exchange information, and communicate and participate in collaborative networks through the Internet. "
For a few years now, technology has tended to be introduced in all areas of our lives as citizens and as educators. So it is absolutely necessary to create tools to calculate the impact of these in our lives and especially referential frames to be able to evaluate our current knowledge and to know in which direction we have to continue to be able to advance that knowledge.
For these reasons, today in Europe, the benchmark has become DigComp, a framework developed in 2013 and updated first in 2016 and then again subsequently. DigComp indicates a digital competence framework for all citizens.
To which was later born DigCompEdu that proposes to define the necessary digital skills teachers require for modern day teaching.
DigComp 2.1, the latest version of DigComp, serves as a frame of reference for the use of technologies for organisations and professionals working in the field of training. The latest version of this document is adapted to digital advances, discussing transversal issues such as security and problem solving, and other more common ones such as content generation, interaction through digital tools or simple communication. All of them include differentiated competences that are defined through 8 levels of aptitude, whilst the first two versions of DigComp (1.0 and 2.0) had only 3 levels of aptitude.
Educators require an increasingly broad set of skills, relying on digital devices and the duty to help students become digitally competent requires educators to develop their digital competence.
In conclusion, it should be noted that digital competence goes far beyond the usual use we make of our mobiles or computers, and implies a creative, critical and safe use of information and communication technologies, aimed at achieving the related objectives with work, employability, learning, free time, inclusion and participation in society and, therefore, requires knowledge related to both the specific language of these technologies, and certain behaviour patterns, including programming. Above all, taking into account the use that should be given by educators. All this requires competence with the main computer applications, access to secure sources and the knowledge of the rights and freedoms that assist people in the digital world.